Thursday 3 March 2011, 7.00pm | Austrian Cultural Forum London
Book announcement and panel discussion "The Emergence of Networked Design and Thinking"
Invited experts, such as Neil Spiller, Marjan Colletti and Georg Flachbart reflected on issues of 'virtuality', ecology of performative design and open innovation. The discussion has been moderated by Ivan Redi and Andrea Redi.
See the video from this event: http://www.vimeo.com/21456114
The new upcoming book by ORTLOS entitled Architecture of the Networks – The Emergence of Networked Design and Thinking is focused on virtual prototype, virtual enterprise, and virtual environment. This unique publication, the result of a continuing unusual creative collaboration between ORTLOS and graphic design legend David Carson, presents theories and projects, dating from 2005 to 2010. The successor band to the successful first publication, considers the context in which networks are a significant environment for architectural design. It is meant as a manual that shows how to use can be implemented by specially developed tools in interdisciplinary teams of architecture networks.
Accompanying the book is an Apple iPad application, which includes all content and information graphics and assist the book interactive. This specially developed application by ORTLOS and NIRI is an intelligent tool, which not only enables the reading of e-books, but also helps understanding those. No matter how complex nonfiction book or scientific text may be, iThink will visualize the author's way of thinking and make the relationship model of presented knowledge easy to grasp and navigate. With additional features and Internet services iThink is offering the exciting way to explore the most complex issues of today at a glance.
Ortlos also present their work in an exhibition entitled Performative Networked Design.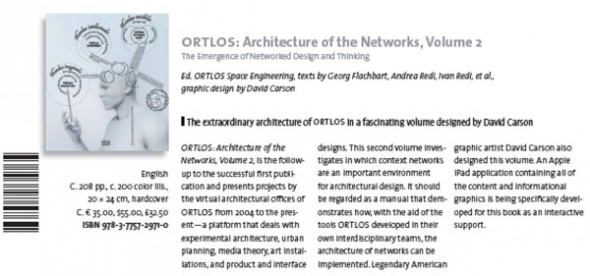 Financial support by Kultur Steiermark, Kultur Steiermark International und Stadt Graz Kultur

[mappress mapid="4″]